Marketers will soon have another channel to leverage their Stories advertising campaigns.
Status Update
While WhatsApp has remained quiet on the advertising front for years, the Facebook-owned messaging platform will soon allow marketers and brands to advertise in its realm.
"We are going to be putting ads in 'Status'. That is going to be the primary monetization mode for the company as well as an opportunity for businesses to reach people on WhatsApp," WhatsApp's Vice President Chris Daniels claimed in a recent interview.
The "Status" section, which was implemented earlier this year, works very similarly to the likes of Instagram's, Facebook's, and Snapchat's Stories formats, which display user generated content for 24 hours prior to being removed from existence.
As for when these ads will start to roll out, Daniels did not specify or give any kind of timeline.
A Likely Scenario
There is widespread speculation that this advertising channel will be managed much the same way that Instagram currently is, through Facebook's native business manager platform.
The business manager platform consolidates Facebook-owned properties, allowing advertisers to work under one dashboard, with full control on which social medium they'd like their ads to run on. If WhatsApp is added to this platform, it is also quite probable that all of the targeting capabilities currently offered with Facebook and Instagram will also be available to use with WhatsApp.
Looking Back
With over 1.5 billion users worldwide as of 2017, WhatsApp is definitely not a medium to take lightly. In fact, WhatsApp's usage upon it's initial release dramatically outperformed that of Skype, Twitter, Gmail, and even Facebook.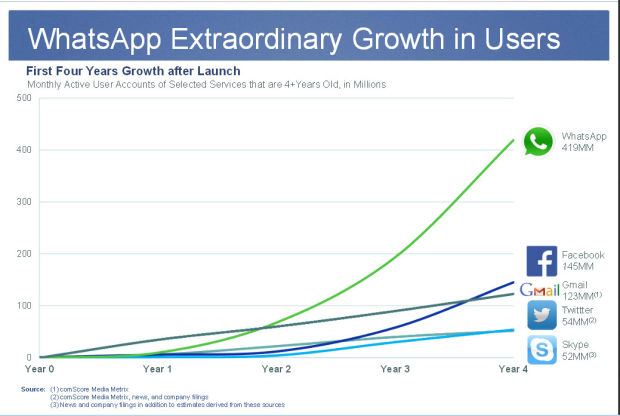 Image Source: BusinessofApps
Even after the initial four years of its inception, WhatsApp has constantly achieved steady growth, and is currently one of the most popular messaging platforms in use. And if the below findings from Statista are any indication, that growth isn't expected to slow down or dip any time soon.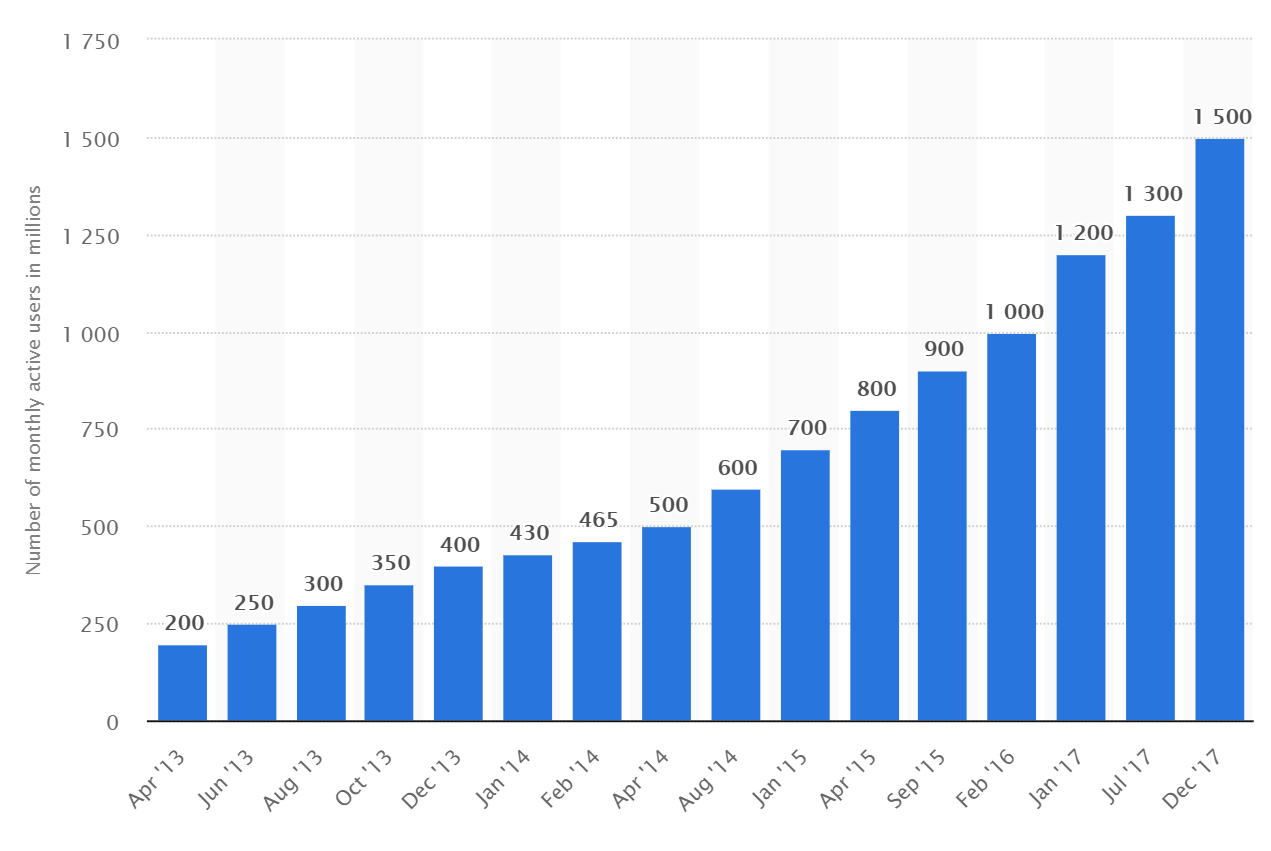 Image Source: Statista
Earlier this year, Facebook hinted at implementing advertisements on the WhatsApp messaging platform in addition to monetizing it towards enterprise companies that use WhatsApp to communicate with their customer base.
This isn't the first time WhatsApp has integrated a monetization component either. In 2013, the platform decide to charge all its users a $1 annual subscription, although that fee was dropped only one year later.
The Road Ahead
There are some uncertainties when it comes to this new advertising format. When will it roll out? Will it be open to all advertisers and brands, or just a select few? What will placement costs look like?
One thing that people should be mindful of, is that there may be a sense of urgency for Mark Zuckerberg and his team to expedite this format. Facebook's revenue growth on its native platform has hit a 6-year low. Not only that, but there also seems to be some possible concern on the Instagram side of things too, as its co-founders, Kevin Systrom and Mike Krieger resigned back in September, citing uncertainty about the future management of its application as the cause for their departure.
With some fallout happening on both the Instagram and Facebook side, it's possible that Facebook will make an extra effort to ramp up revenue coming from WhatsApp to compensate.
Advertiser Takeaway
From an advertising standpoint, this new "Status" ad format is good news, as 450 million people are actively using that content feed. That's a lot of exposure to a formerly untapped userbase.
It's also good news in the sense that any Stories ads you're currently running on Instagram, Facebook or Snapchat will be easy to duplicate for WhatsApp, due to the format's nearly-identical nature as its predecessors.
Although no official word has been given, early rumors suggest that we could see this format go live in early 2019. So keep your eyes peeled and get those Stories ads ready for launch!