Google will slowly begin to start serving up its search ad listings within its Assistant app.
Enhancements to Assistant
Those who have Android devices and frequently use the Google Assistant app may soon start to notice some cosmetic changes over the next few weeks. The search giant recently announced in a blog post that it has added a series of new features to the popular voice-powered application.
In addition to new mobile-friendly elements such as a tip and mortgage calculator, better event displays, and more visuals that reflect items based on your search query, Google also mentioned that this update will direct some user searches to its search results page on the web, which means the inclusion of search ads as well.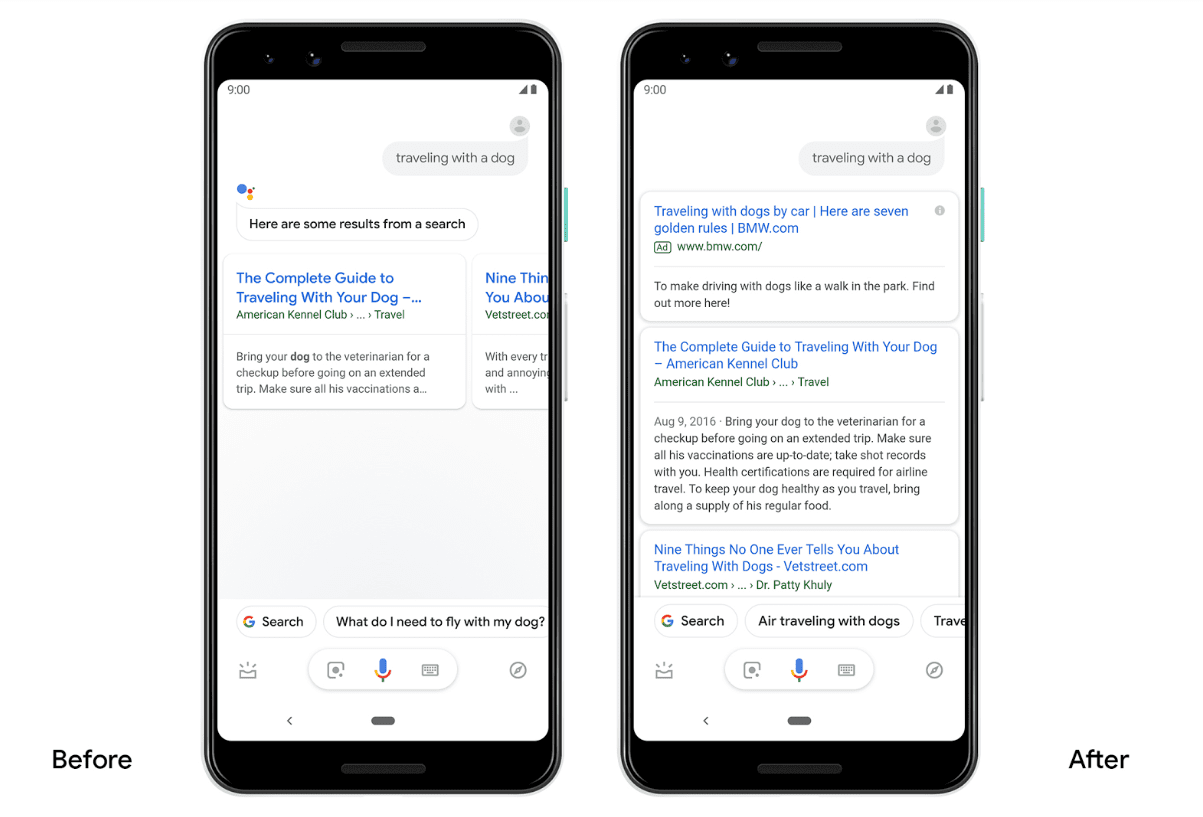 Image Source: Google's Blog
These new changes have already begun to start rolling out in the United States. And while it is expected that the search ads will seldom appear (at least at the start), some are predicting that this change could cause some backlash with the Assistant userbase, which has started to get used to the app simply serving up responses in a clear and concise fashion without unnecessary clutter.
Extending Service Capabilities
Even though the occasional viewing of search ads may annoy some users, from a marketing perspective the above changes spell out more opportunities for brands and marketers.
Google's decision to give Assistant some utility upgrades was likely influenced by its Chinese counterpart WeChat, which has a vast array of features - like hailing taxis, ordering food, paying bills, and much more - that have made its users become even more entrenched within the technology.
For marketers, this means that there will be more ways to provide a positive and interactive customer experience as these capabilities continue to evolve.
Eyeing Alexa
Another motivator to the above additions could also be the fact that Google has been dealing with a major increase in competitive pressure this year coming from Amazon. The ecommerce giant has seen its advertising revenue climb quite dramatically recently, and has been ramping up its advertising program in the form of adding videos, streamlining its content program, and continuing to leverage its popular ecommerce channel advertising (ECA) format which has become very popular for advertisers.
In addition to the advertising upgrades Amazon has deployed, the company has also been further enhancing its Alexa assistant to rival that of Google Assistant. It was announced earlier in April that they are developing earbuds that work with its virtual assistant app as it tries to further increase its foothold in the smart assistant market.
Stay Tuned
As we've mentioned countless times already throughout the year, the competition we're seeing between the likes of Google, Amazon, and other major players like Facebook and Snapchat is unprecedented. The rate in which we're seeing new capabilities being introduced is almost becoming difficult to keep up with.
Scarce details have been provided in terms of how advertisers can capitalize on the displaying of search ads within the Google Assistant app. In fact, Google has stated that advertisers will not be able to target their ads specifically to Assistant users, at least not for the foreseeable future. This means that if you want to have your ads served up in Google Assistant, you'll want to ensure that your search campaign includes mobile devices. But even then, understand that Assistant will likely only account for a small percentage of your page hits.
You'll also want to be mindful of the search terms you're targeting. There is no better time than now to start taking a more conversational approach to your keywords, like focusing more on answering questions and handling more semantic responses. With voice assistants like Google Assistant and Amazon Echo expected to increase by more than threefold over the next few years, brands and advertisers who fail to start adjusting to voice queries run the risk of falling behind quite significantly to those who take a more proactive approach.
If you have any questions about the findings above, or if you're interested in learning more about how to capitalize off of the smart assistant surge, feel free to contact our performance management team. They're constantly keeping themselves up to date on all of the latest trends and best practices in the industry, and will be happy to help you try and get a leg up on your competition.