New insights show that Reddit may be on pace for tremendous growth over the next two years.
Looking Upward
The aggressive push Reddit has made this year to penetrate more of the digital advertising market seems to be paying off. A new eMarketer report has revealed that the social community site is on pace to generate $119 million in ad revenue this year, a significant climb from the $77 million it generated in 2018.
The future looks even brighter for the Reddit advertising realm, as eMarketer also predicts that the company will more than double the end-of-year amount by 2021, with the prediction currently at $261.7 million in the United States alone.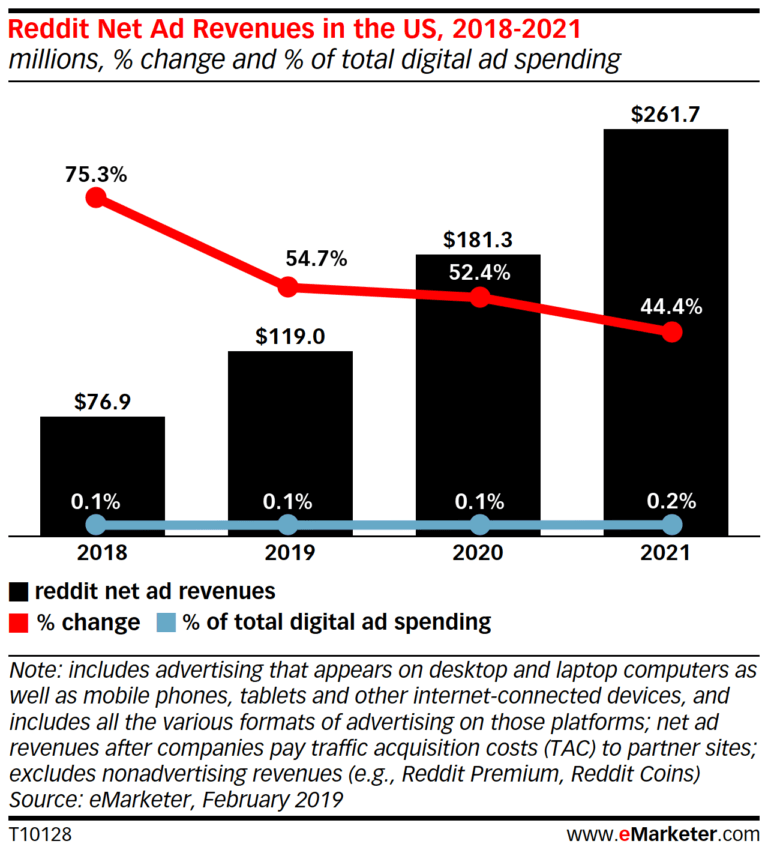 Image Source: eMarketer

Reddit's Advertising Push
There has been a lot of change at Reddit HQ recently, as the company has committed to making a serious push towards ramping up its advertising program to try and disrupt the duopoly between Facebook and Google and capitalize off of the lucrative digital market.
Since last year, Reddit has introduced a CPC model to its website, a new app install format, native promoted posts and autoplay video ads, and it's doubled its internal sales team to try and broaden its appeal to brands and marketers.
Interestingly, most of Reddit's advertising revenue to-date has come from desktop and laptop placements, however that is expected to change this year and account for 57% ($67.8 million) of its total. This comes as the company has recently invested more time and resources into developing a better mobile app, and a stronger overall mobile experience.
There have already been some strong signs of brand success as well on the platform. A recent Digiday article highlighted that Absolut – who was looking to alternatives to Facebook and Google – experienced 2.5x higher engagement rates with Reddit video ads.
A Growing but Uncharted Userbase
It's not just more advertisers and advertising revneue that Reddit is generating more of these days; its userbase is also steadily growing. Currently at 330 million monthly active visitors, eMarketer is forecasting that Reddit's logged-in audience will account for close to 12% of all U.S. internet users by 2023.
"Reddit's users are tech-savvy and highly engaged, making them attractive to advertisers,"
stated eMarketer Forecasting Director Monica Peart
. "A large portion are unique users, meaning they don't use other social platforms. That means advertisers have the potential to reach new audiences in a highly targeted way."
Conversely, Reddit's natural news-climate style may also be a cause of concern for some brands who want to ensure their ads aren't associated with inappropriate content – something that is prominent within that social community – and a topic that has plagued YouTube in recent years, forcing them to make various changes to its advertising model.
"As a mix of forum and trending news site with a bit of social network, Reddit has operated on an 'open internet' ethos,"
said Peart.
"While that has yielded organic growth among a hard-to-reach audience, it has also meant a reality where controversial content is the norm. And in a news climate where missteps can tarnish results, that makes some digital advertisers nervous."
Taking a Strategic Approach
Despite these findings, the bigger picture is still quite small for Reddit's advertising success. This revenue surge is likely only to give the company a 0.2% piece of the overall advertising market. Having said that, it's worth noting that – given the fact that Reddit has only recently ramped up its advertising model – this isn't something to neglect entirely. On the contrary – there could be a lot of opportunity for brands who are looking to try placing their ads in a new space (as we've seen already with Absolut).
Before experimenting for yourself – make sure you're aware of what capabilities are an aren't within your realm of control with Reddit's advertising program. While there are more campaign objectives than there has ever been to target, the platform certainly does not offer the granular targeting options that Facebook and Google currently provide.
At the rate in which we've been seeing new advertising features announced on Reddit, it wouldn't be a shock if we received a few more throughout the year. If you're still on the fence about venturing into that community, give it a little more time, as there will likely be more advanced targeting features coming soon for advertisers to work with.