The second quarter of 2019 shattered records for mobile app downloads & spending.
Raising the Bar
As mobile applications continue to become more sophisticated and serve essentially any type of niche out there, people are increasingly downloading and consuming them more frequently. New findings by researcher App Annie states that Q2 2019 was a record-breaking quarter, with 30.3 billion downloads taking place and close to $22.6 billion dollars spent on mobile apps – a 20% increase year-over-year.
These insights are exclusive to new installs only – meaning it doesn't even factor in users who have reinstalled or updated existing apps.
Devices & Demographics
In terms of the competition between giants Google an Apple, both companies had some interesting gains via their respective Google Play and iOS app marketplaces.
Google Play app downloads in Q2 2019 jumped to 22.5 billion, a 10% increase compared to Q2 of 2018. Comparing this with the iOS app store, Google Play generated 185% more global downloads.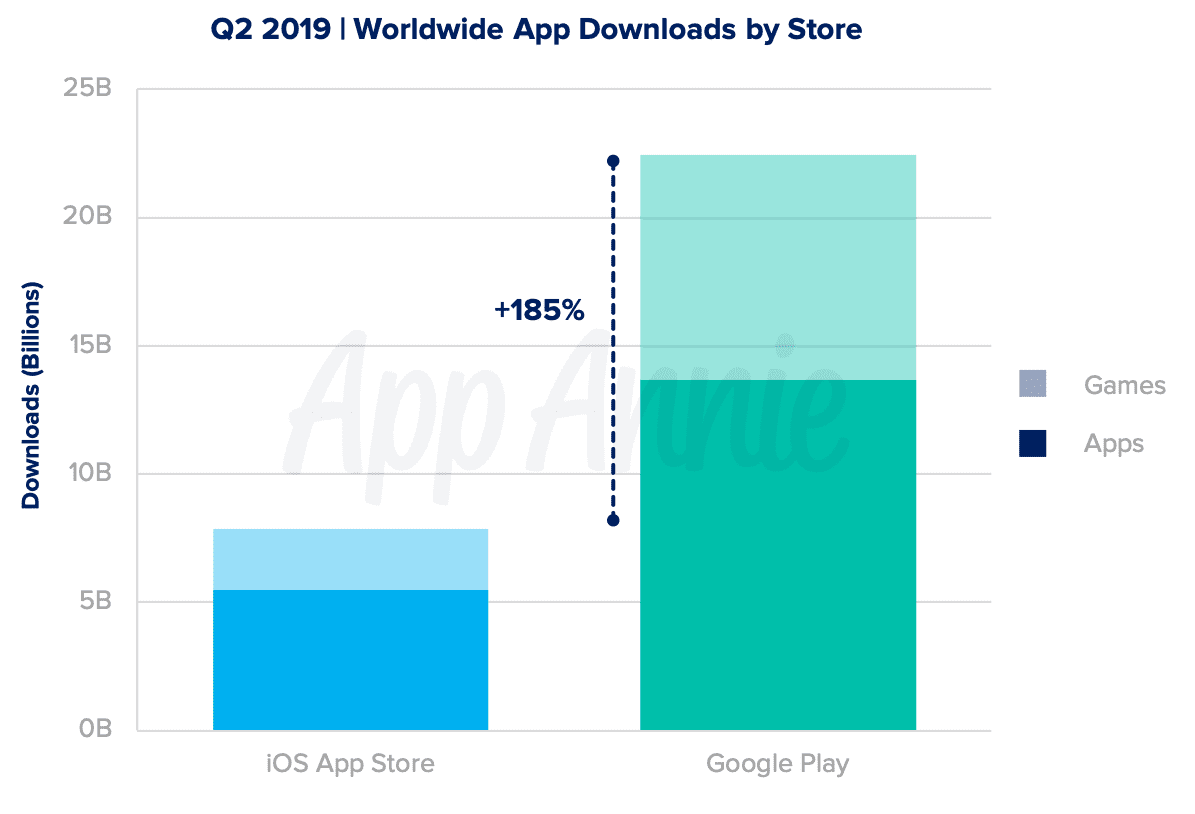 Image Source: App Annie.
As for which geographies drove Google's growth – India, Brazil and Indonesia were the top three markets in terms of year-over-year growth and total downloads. Egypt ranked as the second largest increase in regards to market share.
The most popular types of app categories on Google Play in Q2 2019 were Auto & Vehicles, and Comics and Entertainment. Non-gaming apps overall saw a download increase of 15% year-over-year.
While iOS may not have produced as many downloads as Google Play, it maintained a commanding hold in consumer spending as the platform was reported to have generated 80% more revenue.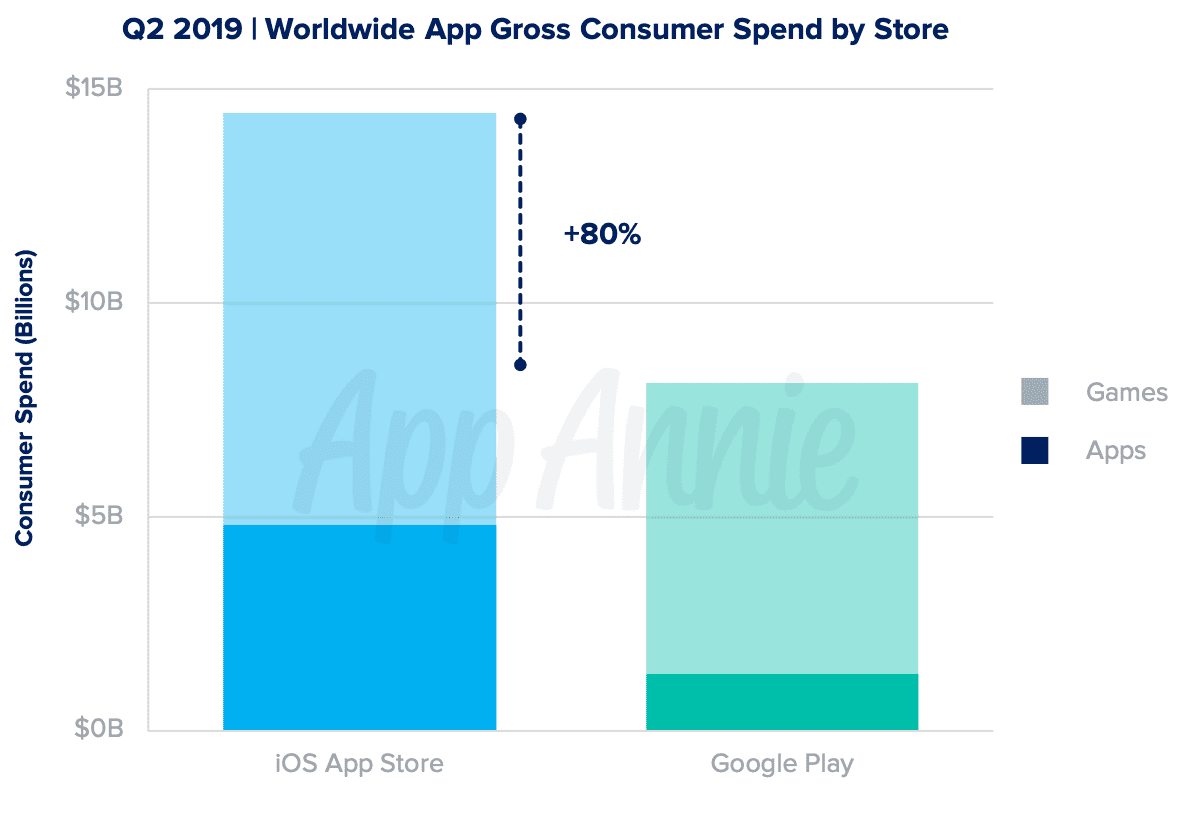 Image Source: App Annie.
Countries responsible for the bulk of Apple's revenue include the United States, China and Japan. The US also was one of three geographies to have the largest year-over-year growth, along with the United Kingdom and Brazil.
The Photo and Video category was the bread winner for most popular revenue-generating apps in the second quarter of 2019, along with Entertainment and Music closely behind. This is largely attributed to the fact that apps under these categories are increasingly turning to a in-app subscription model.
Apps Gaining Traction
While many social apps found themselves growing in popularity in Q2 2019, there were three in particular that really broke out.
Snapchat took the gold with a massive spike in downloads, climbing three places higher than it ranked in Q1 2019. This likely comes as the company invests more of their time and resources developing augmented reality filters.
YouTube found itself ranking within the top 5 apps consumers are spending money on, as more users are opting into its paid subscription features, like offline play, background play and exclusive content.
Finally, the relatively new social video streaming platform TikTok placed quite high in the global downloads category. The platform, which originated in China, has a similar model to Snapchat where users are streaming short form video content.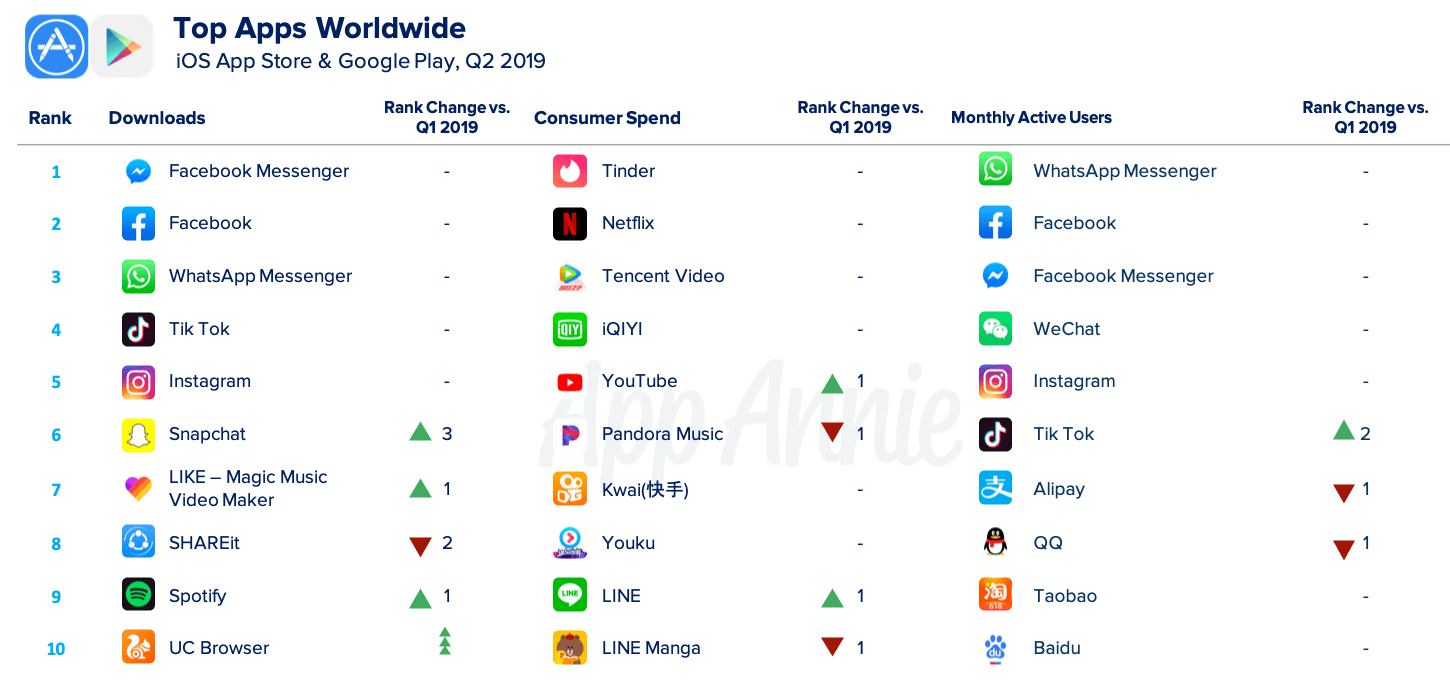 Image Source: App Annie.
It's worth noting that all of these findings above exclude gaming apps, which App Annie has compiled a separate report on entirely.
&nsbp;
Strategic Placements
These findings should help give advertisers some deeper insight as to where they should be striving to serve their ads. Additionally, it also provides a bit of a hint as to what types of ads might produce better results as we move deeper into the year.
With more users turning to the app stores, now is great time to increase your mobile advertising spend, or at the very least – start allocating more of your existing available budget to mobile. There are benefits to placing your ads on both Google Play and iOS, and its ultimately up to you to weigh out what makes more sense based on your marketing strategy. One network has a rapidly growing amount of users making downloads, whereas the other has more people willing to fork over actual money.
From a content perspective, this also seems to be a great time to put more energy behind short form video content ad formats. With the three most popular non-game apps all being video streaming platforms, clearly this is what more users are positively engaging with.
If you have any questions about the above findings, or want some more information on our available mobile offers, please reach out to our performance management team. They'll be happy to work with you to optimize your mobile campaigns.