Marketers now have even more ways to drive conversions and spread awareness on LinkedIn.
Additional Utility
Advertisers looking to better utilize the popular business networking platform now have a few more ways of doing so. LinkedIn recently announced that it has added some new objective options to its Campaign Manager, including ones that focus specifically on generating more brand awareness and website conversions.
These features are designed to make it easier for brands who are wanting to boost visibility and lead flow, and early signs suggest that it's working quite effectively, as LinkedIn is reporting that there has been a 67% lift in customer satisfaction as a result of these new changes.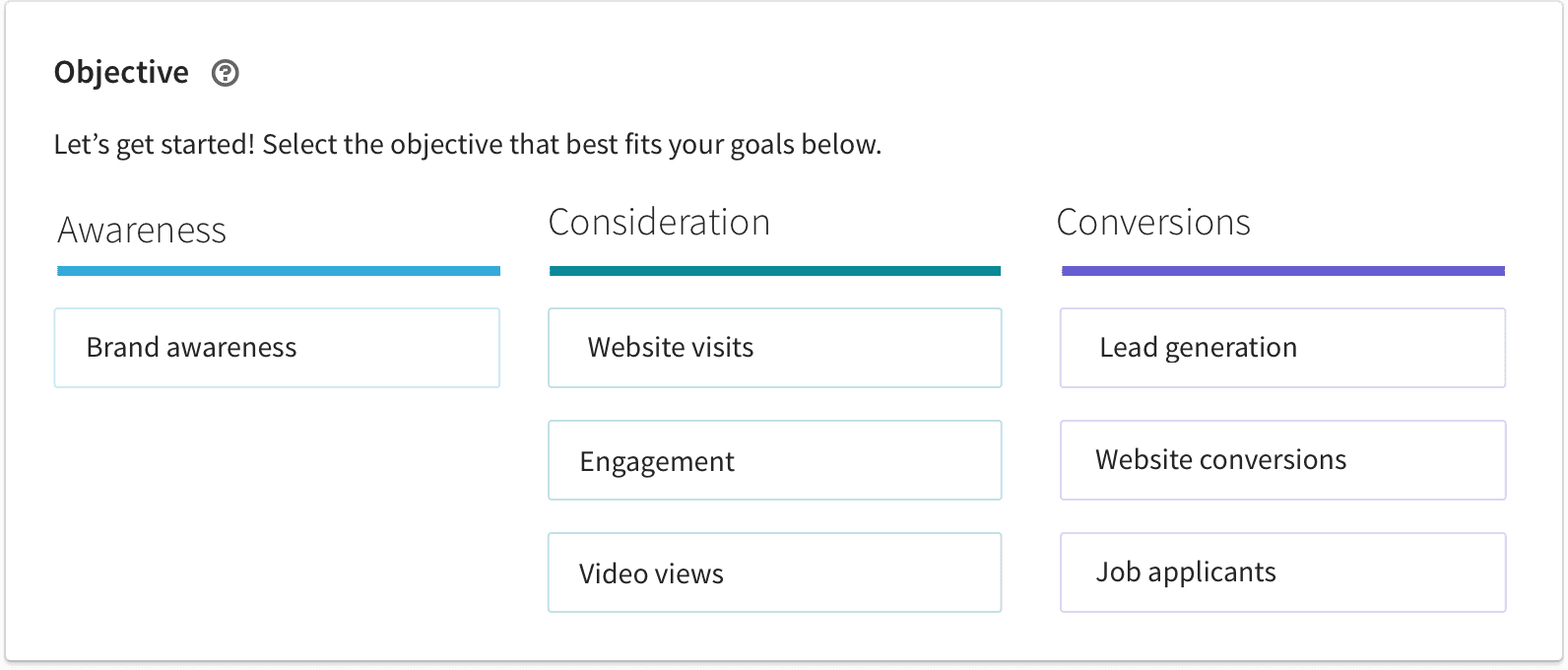 Image Source: LinkedIn.
Brand awareness campaigns allow advertisers to produce a top of funnel campaign that enables them to increase 'share-of-voice' for their products and services, charging on a CPM (cost per thousand) basis. The website conversions option gives marketers the ability to create campaigns that can drill down more tightly on specific actions completed, like ecommerce purchases, software downloads, or event registrations.
Additionally, LinkedIn has also rolled out a new advertising format for talent acquisition, giving HR and other recruitment professionals a way to deliver a more robust job application to potential new applicants.
An Expanding Portfolio
This is only one of many updates LinkedIn has recently made to its Campaign Manager. The business platform introduced two more visual ad styles last year in the form of video and carousel formats.
It doesn't end there either. LinkedIn has also introduced a new reporting UI with the sole purpose of increasing advertising efficiency when inside the Campaign Manager and providing more transparency in terms of how ads are actually performing. The company also gave its Campaign Manager a dramatic cosmetic upgrade designed to make it easier than ever for marketers to put together a highly targeted campaign very quickly.
Objective-based advertising as a whole is a relatively new concept for LinkedIn as well, which ultimately streamlines how advertisers can set and achieve their advertising goals. These three new features are just the latest that fall under its that portfolio.
Trending Upward
Since Microsoft purchased LinkedIn back in 2016, the company has been steadily growing in essentially every area that matters. Its overall revenue has increased 33% year-over-year in Q1 2019, following a strong Q4 2018 which saw its revenue expand by 37%. At the end of 2018, LinkedIn's total revenue stood at $5.3 billion, double that of the $2.3 billion it took home back in 2017.
From a user perspective, there are estimated to be roughly 154 million Americans currently on the platform, 45% of them in upper management, and two new professionals joining every second. 50% of all B2B social media traffic comes from LinkedIn, and a whopping 80% of all B2B leads generated from the social realm convert via LinkedIn.
It would seem like there's nowhere to go but up for LinkedIn as we move through the second half of the year.
A B2B Boom
With LinkedIn strongly establishing its niche as a powerful source of connecting with not only business professionals, but those that are likely to be in a more senior position, the opportunity for brands (particularly those who are offering B2B goods and services) is too lucrative to ignore.
Marketers who are leveraging display and social ads - especially those selling business software or SaaS offerings - would be prudent to start testing these new formats in conjunction with some of LinkedIn's other ad offerings. Just within LinkedIn's ecospace, there are lots of ways to diversify your marketing campaigns compared to what your competitors are trying, so strike while the iron is hot and see how these new formats perform for you.
If you have any questions about optimization best practices for LinkedIn, or if you're just interested in finding out more about which offers we are currently running that convert well on the network, don't hesitate to reach out to our performance management team. They'll be happy to help you further capitalize!