Consumers will now have the option to directly purchase products without ever leaving the Instagram app.
Pilot Project
Instagram is posed to become an even stronger player in the mobile commerce realm, as the company recently announced that an in-app checkout feature is now in closed beta with select brands in the United States.
Those who have been chosen will be able to offer consumers the ability to view their product offerings and present them with a "Checkout on Instagram" button, which – upon being tapped for the first time – will prompt them with simple details such as name, email, billing information and shipping address. This information will then be stored for even faster checkouts in the future.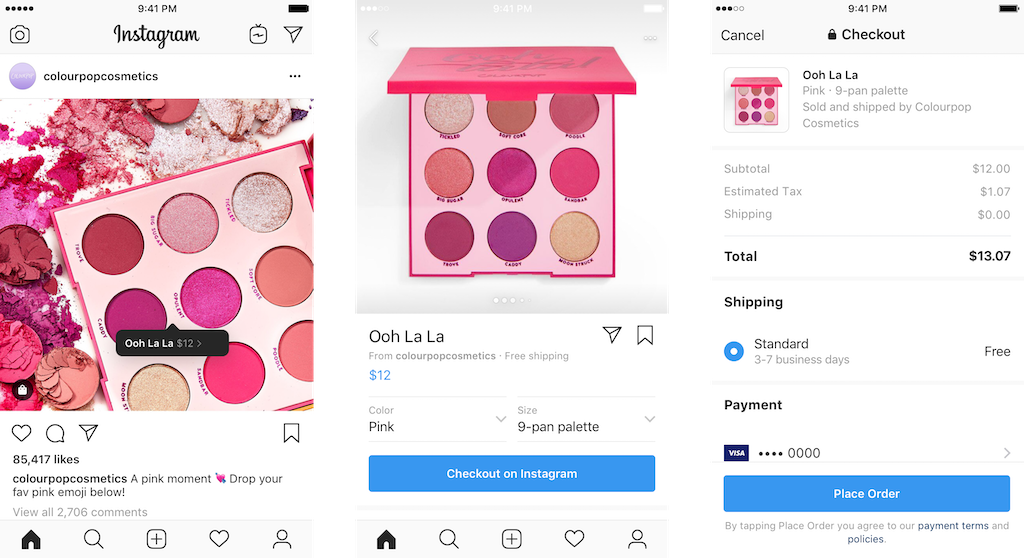 Image Source: Instagram
Additionally, Instagram will also use its platform to provide those who have made purchases will updates on the status of their product, such as tracking and delivery details.
Competition Intensifying
While Instagram has made various updates over the last year to become a more lucrative platform for brands and advertisers - releasing updates such as the expansion of its shoppable program to more countries around the world, instant promotions, a new analytics dashboard, and the implementation of mobile commerce actions on its Stories content - this update is considered to be one of the most significant moves the social platform has made to date in terms of competing with Amazon, which has made some large strides in terms of capturing some of Instagram's market share.
Amazon isn't the only target that's putting pressure on Instagram and its parent company, Facebook. Google is ramping up its fight as well, having only very recently stated that it will be rolling out a new ecommerce feature via its Images search results page, adding yet another form of display advertising for Zuckerberg and his team to contend with.
Growing Challenges
It's been a particularly challenging past year for Facebook, as the company has been faced with numerous privacy scandals, growing regulations around data security, and a large increase in users deleting their accounts from its native platform.
With that in mind, the company has looked to its sister platforms like Instagram and WhatsApp to pick up some of the slack while it deals with its reputation problems. Both platforms have had no shortage of success, with Instagram experiencing tremendous growth with its sponsored advertising program, and WhatsApp surpassing Facebook itself in terms of monthly active smartphone users.
Looking Ahead

Despite all the negative PR swirling around Facebook right now, the social behemoth still maintains a commanding presence in the digital advertising ecosystem, with over 7 million advertisers using its services.
It's unclear just how many of those advertisers are allocating their spends to its sister companies like Instagram, but it would be fair to assume that – with all of the success Instagram has been having – that the channel is a significant contributor to that number.
Even though Instagram's direct checkout option is only available to a few brands at the moment, Facebook will inevitably roll this out to more advertisers so that it can combat the competition in the space.
This is a great time to "watch and see." The brands that are in beta are some of the world's biggest brands, like Adidas, Nike, H&M, and Michael Kors, meaning we'll see some of the most innovative advertisers in the space find creative ways to maximize the impact of this new feature, which is always a good thing when it comes to generating ideas on how to replicate a similar success model for your advertising program.
As consumers increasingly turn to mobile for content consumption, advertisers need to be flexing their digital budget accordingly. If you have any questions about mobile or social advertising best practices, please reach out to our affiliate management team. They'll be happy to share some tips and tricks with you, as well as point you towards some of our best advertising offers.