Cyber Monday ecommerce revenue exploded this year, becoming the single largest online shopping day in American history.
A Monday to Get Excited About 
Digital retailers had a lot to be thankful for during the holiday break, as a new Adobe Analytics report stated that Cyber Monday ecommerce sales in the United States generated a whopping $7.9 billion in revenue, officially becoming the largest online shopping day in US history. This figure translates to more than five times the amount of ecommerce purchases that are typically made on an average day.
In addition to the Adobe report, which tracks the ecommerce transactions of 80% of the top 100 US retailers and analyzes over 1 trillion site visits and 55 million product SKUs, Amazon also claimed that this year's Cyber Monday was its most profitable day ever, surpassing its previous Prime Day record back in July.
It's becoming quite clear that Cyber Monday is no longer a shadow that feeds off of the momentum created on Black Friday. It is a day that all ecommerce businesses should be planning for well in advance.
Key Purchasing Trends
There were a few interesting trends that examined precisely how people were doing their digital spending. Buy Online, Pickup In-Store (BOPIS) experienced a massive increase year-over-year, growing by 50% and proving that brick-and-mortar competition is still very much holding its ground and adapting to the influx in customers taking to the digital space to spend their money.
Another major contributor was mobile commerce, with smartphones hitting slightly over $2 billion of the $7.9 billion total, hitting a record high growth rate of 48.1% year-over-year. Total smartphone traffic achieved an increase of 16% compared to Cyber Monday in 2017, and – for the first time - more than half of all online store visits were attributed to either a smartphone (43.6%) or a tablet (7.8%).
Weekend Successes
While Cyber Monday seemed to be the source of most of the holiday ecommerce buzz this year, Black Friday and the Thanksgiving weekend as a whole certainly had no shortage of success either.
Ecommerce revenue hit a record-high on Black Friday, increasing 24% from last year and reaching a total of $6.22 billion in consumer spending.
Thanksgiving Day also leaped-frogged its record from last year, climbing to $3.7 billion and increasing 28% year-over-year.
The full holiday period (November 1st – 26th) drove $58.5 billion in ecommerce revenue, with every day producing over $1 billion, and exceeding original revenue forecasts (as seen below).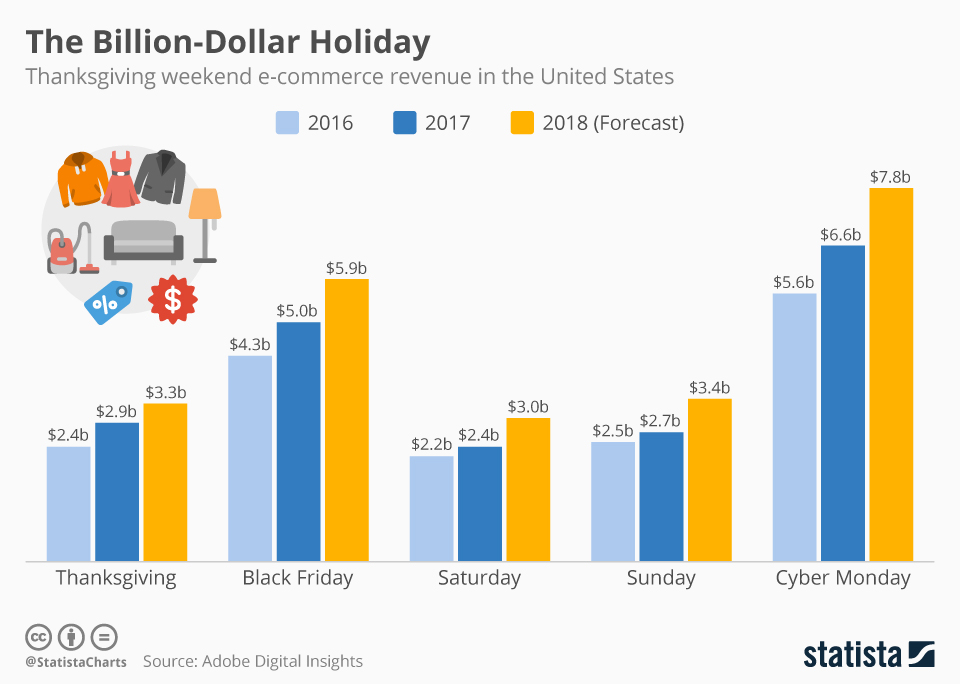 Image Source: Statista
Surfing the Holiday Wave
With ecommerce essentially becoming second-nature to consumers, the various ways transactions can happen (through devices like smartphones, tablets, smart speakers), and the channels in which these purchases can occur (mobile commerce, voice commerce, social commerce, and conversational commerce), it's becoming a much smoother process for businesses to capitalize on the digital market.
Whether you're selling physical goods or digital ones, there are countless ways you can hop on the ecommerce wagon. If possible, offer special deals or incentives to get people excited about doing business with your brand during the holiday period. From a checkout perspective, ensure you're optimizing your site – not just for desktops, but for other channels like mobile and voice. Take advantage of promoting your goods and services on social mediums, and consider adding new forms of payments to remove barriers and motivate your shoppers to follow through on the sale.
If you have any questions on ecommerce best practices or how to provide a better user experience to take advantage of the uptick of holiday shopping, feel free to reach out to our client services team. They'll be happy to provide you with some helpful resources on what you can do to maximize your digital revenue.