As more people start to tune into their favorite podcasts, big things are expected to happen in terms of advertiser potential.
Surpassing Expectations
Brands and advertisers looking to explore more niche digital ad opportunities may want to invest some spend into the audio realm, as new research compiled by WARC has painted a promising picture for the state of the podcast advertising market.
Podcast advertising spend is on pace to reach $1.6 billion over the next three years, which will consist of 4.5% of the global audio ad market. This is nearly double the year's estimated spend, originally pegged at $885 million and 2.5% respectively.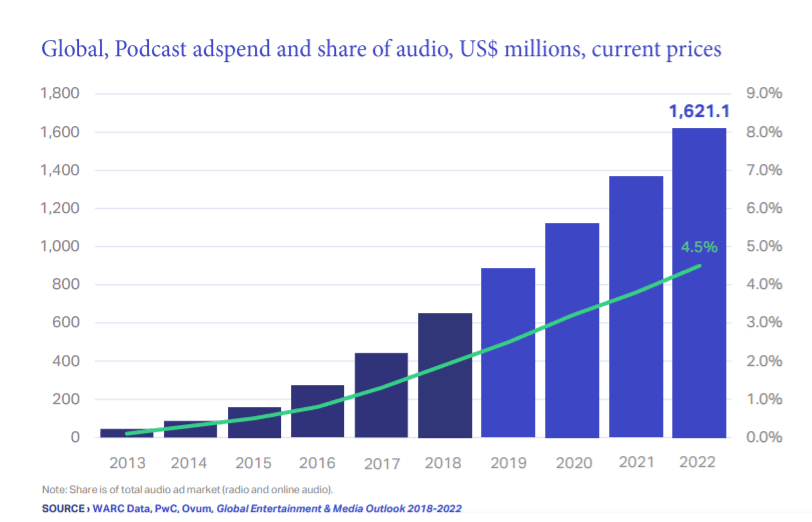 Image Source: WARC
Audiences & Formats
The research breaks down additional information about where and what types of podcasts are surging in popularity. Perhaps most significant is the reveal that one in three people worldwide are listening to a podcast on a monthly basis.
As for what types of podcasts people are listening to, that information is much more scattered. In North America for example, news and political podcasts are ranked number one, whereas in China, education content is supreme.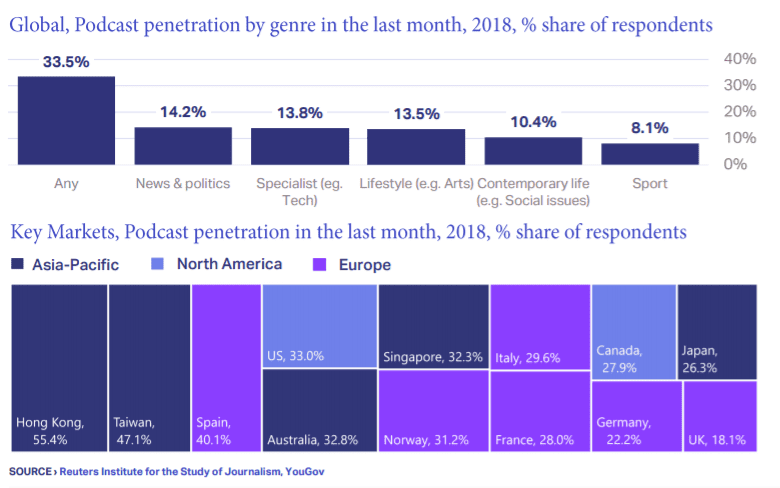 Image Source: WARC
Another element that will be of particular interest to advertisers are the style of ads that are performing most effectively, and the goals that companies are hoping to achieve with podcast ads.
The majority of podcast ads are host-read, with 58% of podcast ads being delicately weaved into the subject matter, ultimately creating a more blended and positive listening experience. Unlike traditional radio, podcast ads have less competition and most are not deploying full ad breaks, which spells out good news for new advertisers looking to establish more sentiment with their products and services.

Image Source: WARC
"Podcast advertising holds great potential as it enables brands to reach a highly-engaged, young and affluent audience via a medium they have an affinity with,"
stated James McDonald, WARC's managing editor.
Analyzing the Mediums
In terms of where people are turning to satiate their podcast cravings, 53% of the people studied in WARC's research are listening to podcasts on YouTube, with Apple (28.8%) and Spotify (28.3%) trailing behind.
Despite the fact that Spotify has some catching up to do, the platform has made some significant moves recently to try and capture more of the podcast and audio market through its acquisitions of Gimlet Media, Anchor and Parcast – three big podcast players. Combining this with the fact that Spotify is putting more resources into increasing podcast brand sponsorship and further developing its programmatic advertising format, it's clear that Spotify wants to give YouTube and Apple a run for their money.
With a growing base on 159 million active global users and a constantly evolving freemium model that's catered for advertiser convenience, Spotify could cover some serious ground by the end of the year.
Advertiser Takeaways
While the 4.5% market share is still small compared to the likes of traditional radio, it's important to be mindful of the differences when it comes to podcast listenership. Unlike radio, podcasts are on-demand, with users making the choice to directly engage with the subject matter.
We've also seen audio advertising surging in recent years. Last year, when it was first revealed that digital advertising spend had surpassed traditional, audio ads ended up being a key contributor.
From a marketing perspective, audio ads are going to require more work than a traditional search or display ad. As mentioned above, the success revolves around the product or service's ability to interconnect with the subject matter. However, the work may be well worth it – as there is a podcast for virtually any niche subject out there. Even though the audience may be small in comparison to a larger digital realm like social or search, you're much more likely to make an impact on a highly-engaged userbase.
This might be a good time to strike while the iron is hot. Competition is low, and popularity is rising. Brands and advertisers that can invest the resources may stand to benefit tremendously.