Advertising revenue was up for Amazon last quarter, but some of the company's recent insights may cause analysts to scale back their future growth predictions.
A Steeper Climb
Following the same pattern as previous quarters over the past year, Amazon announced that its advertising revenue – which is categorized under the "other" category via its earnings report - once again grew in Q1, 2019 to nearly 2.72 billion, translating to a 34% increase compared to Q1 of 2018.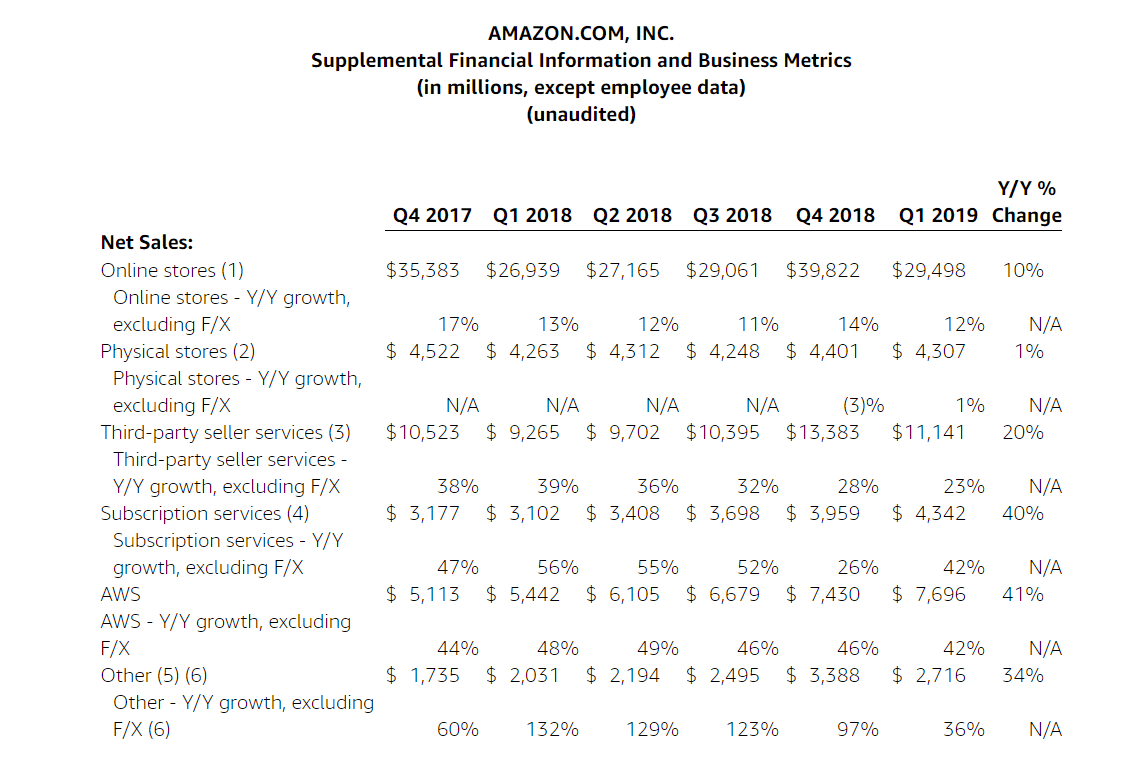 Image Source: Amazon
This is officially the fourth straight quarter in a row that the company has recorded record-breaking advertising profits, with the ecommerce company's overall revenue increasing by 17%, totaling $59.7 billion in earnings in the first quarter of 2019.
Diminishing Returns
While the company is clearly still trending upward, these earnings may be troubling for the company, and those who made earlier predictions on where Amazon's advertising revenue may take the brand over the next few years.
Compared to Amazon's previous quarter - which saw its ad profits soar by 96% year-over-year - and the fact that it has grown by at least 60% over the past five quarters, this may signal that the company has reached a bit of a pinnacle in terms of how quickly it can generate new advertisers and increased advertiser spending.
Earlier in the year, research firm eMarketer predicted that Amazon's ad business would increase by 50% this year and hit $11.4 billion (8.8% of the overall US digital ad market), however that may no longer be the case.
On top of this, the company is expected to spend $800 million upgrading its systems this quarter so that it can better accommodate one-day delivery to its Prime members. This may cause further infrastructural advancements with its advertising programs to slow down or come to a halt.
Where Amazon Currently Stands
Despite the significant drop in quarterly ad revenue growth, it's worth noting that Amazon still came out on top compared to most of its competitors. Facebook's advertising profits increased by 26%, Twitter's rose by 18%, and only Snapchat posted a higher quarterly growth number at 39%. Google has not yet released its Q1 advertising results.
Amazon has been extremely busy in recent months making moves to attract more advertisers to its platform. In addition to them testing new video ads, unifying their three separate advertising platforms into one central marketplace, the implementation of its successful ecommerce channel advertising (ECA) format, the company just recently unveiled a free advertising-driven music service to its Echo devices to compete with the likes of YouTube, Apple, and Spotify.
The drop in quarterly growth is clearly not from a lack of effort on Amazon's part, and can likely be attributed more to the fact that Amazon is simply maturing in the digital advertising space.
Opportunities Abound
For brands and advertisers, it's important to understand two things from a high level. Amazon is still growing its ad business, and it's still the third-largest digital advertising space to compete on, falling behind only that of Facebook and Google.
This ultimately means that while the business may have some more work to do to make your ads resonate more compared to what Google and Facebook are offering, there is still plenty of opportunity to make an impression on a wide base. And unlike Google and Facebook, Amazon shoppers are visiting the platform with ecommerce already in mind.
As mentioned above, we're expecting Q2 to be a bit of a slower quarter when it comes to new advertising functionality due to the company's shift to focus on making good on its same-day delivery offering, but with all of its existing features already in the works and presumably getting further development, advertisers still have a lot of cards they can play when it comes to leveraging Amazon's userbase.
At the end of the day – as always – marketers that can take a more versatile, diverse approach to their campaigns this year stand to benefit the most as the three-way battle between Facebook, Google and Amazon continues.
If you have any questions about the insights above, or simply want to learn more about how to get the most out of your campaigns on Amazon, feel free to contact our performance management team. They'll be happy to share their tips and tricks with you, as well as point you towards some of our most lucrative offers.