Advertisers who took advantage of new digital advertising formats on Thanksgiving weekend this year were rewarded for their efforts.
Spending On the Rise
With the Thanksgiving holiday now behind us, it has become evident that brands and marketers followed through on their strategy to increase digital spending. A new study produced by Kenshoo, which analyzed more than 3,000 advertisers and agencies across 20 different verticals and 60 countries, revealed that advertisers ramped up their holiday ad budgets this year.
In particular, search and social were a major area of focus this year for both consumers and advertisers, with 58% of respondents increasing spends on those respective channels.
Analyzing Search
Interestingly, search CPCs actually dropped from November 1st – November 21st year-over-year. And while the average CPC did jump dramatically from $0.27 to $0.41 on Thanksgiving and $0.50 on Black Friday, there was an overall decrease year-over-year of 8% and 10% respectively.
The decline in CPC seems to be part of a larger trend that has been happening since Q4 2017, which has seen the average cost to click on a search ad consistently dropping. This can be largely attributed to an increase of advertisers experimenting with mobile shopping ad formats which typically offer cheaper CPCs.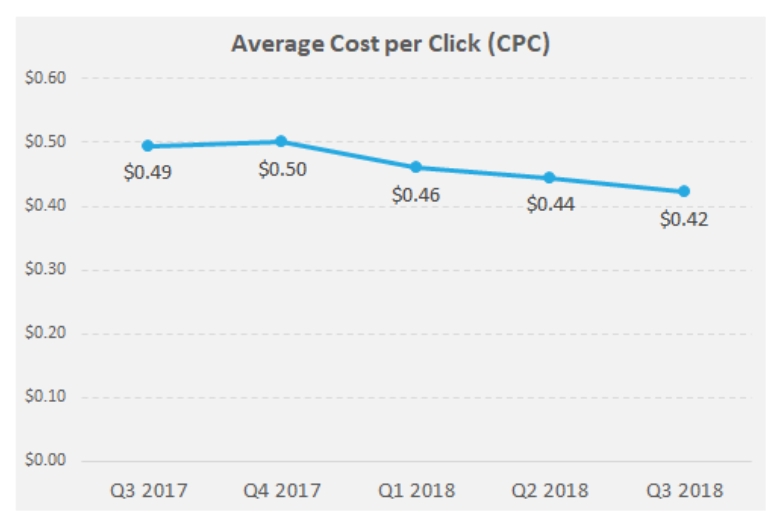 Image Source: Kenshoo
In terms of search conversion rates specifically, there's a case to be made for paying a higher CPC to create that strong sense of urgency on Thanksgiving Day and Black Friday, with the average conversion rate climbing from 4% during the November 1st – 21st period to 5.6% and 8.3% respectively.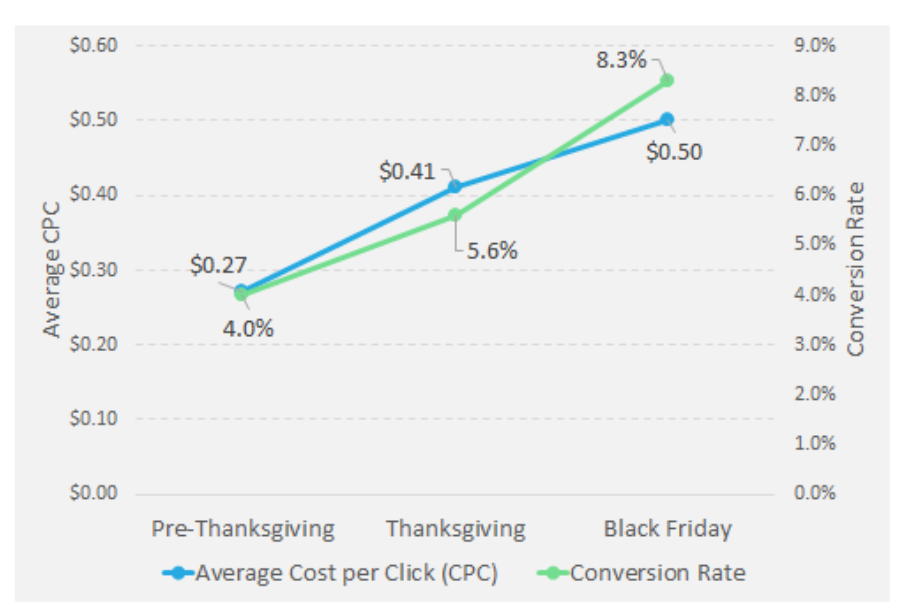 Image Source: Kenshoo
Analyzing Social
Social media engagement was a big focus for ecommerce businesses during Thanksgiving weekend, as ad spends increased 32% year-over-year on Thanksgiving and Black Friday. Unlike its search counterpart, there was an increase in cost per thousand impressions (CPM) on both days compared to last year, which shows that it is becoming paramount for brands to stay top of mind during the holidays.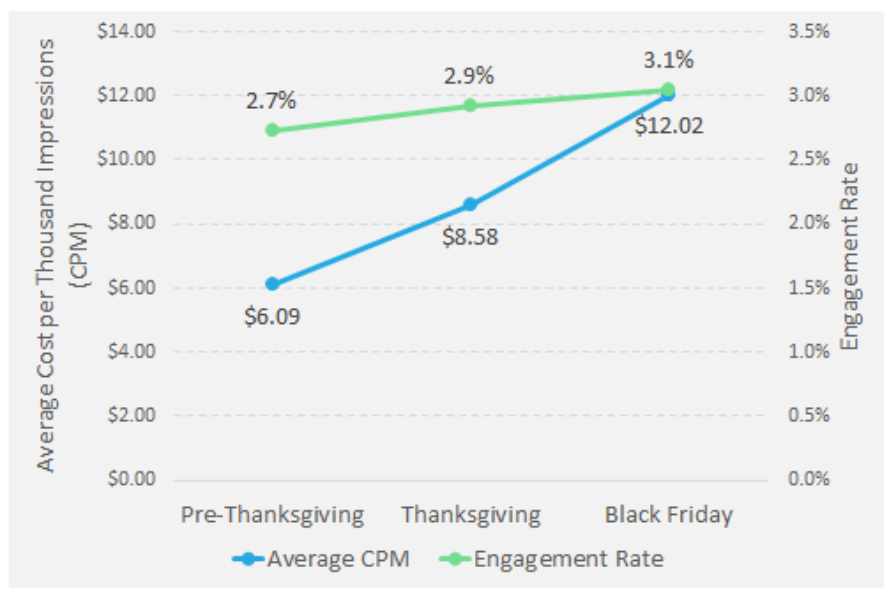 Image Source: Kenshoo
There were two types of ad formats that can be almost entirely attributed to the growth of social spending this year: dynamic product ads, which provide customers with a quick way to purchase products that they may have previously viewed or added to their cart on a brand website, and video ads.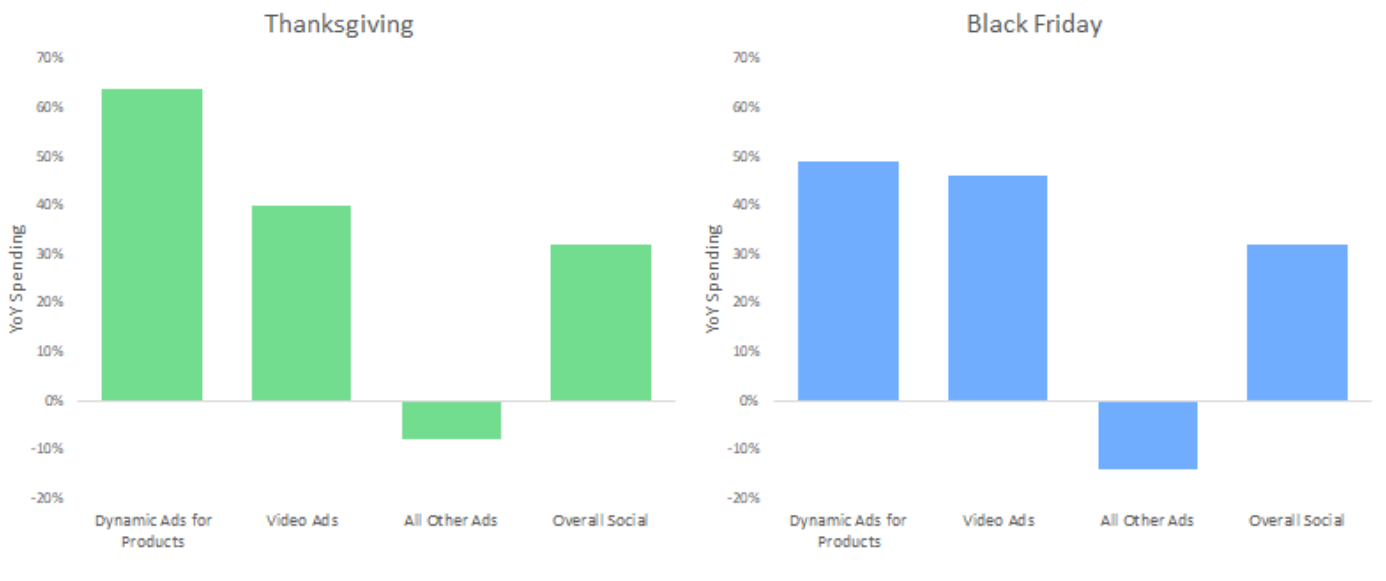 Image Source: Kenshoo
Engage Your Options
There are a few key takeaways that advertisers should arm themselves with as we move into 2019. For starters, even though it often receives the least amount of utility updates, search isn't going away. It is a driving force when it comes to conversions. But simply enabling a blanket search campaign isn't going to be effective enough; marketers need to start focusing on device targeting specifically. Consumers are spending less time shopping and browsing on their desktops, and more time doing it on their mobile devices, so make sure you're running some mobile campaigns and penetrating that market.
The second point revolves around social. While it's clear that some verticals benefit more strongly than others when it comes to social ads, the reality is that social media offers an incredible amount of utility and targeting that can be beneficial for any business. Whether it's carousel ads, product pins, playable ads, shoppable posts, or videos, there are a sea of options you can engage that cater to all different types of industries, audiences, and attention spans.
Finally, the reward can be worth the effort when it comes to seasonal campaigns. For brands who are looking to generate more conversions, understand that people are expecting to see something more during the holiday period. If you can offer a discounted price or free shipping, take advantage of that. Even if that's beyond your wheelhouse, find a creative way to make your business stand out from the competition.
Don't let higher CPCs deter you – there is a ripe opportunity to profit on holiday campaigns, and any effort made can lead to tremendous success if you take the risk.